Suicide & Decision Making: Morris Altman
Ninety percent of individuals who attempt suicide and survive never go on to be lost by suicide at a later date (Owens 2002).
The relatively high long term survival rate is consistent with research that suicidal crises are often short lived. With a large number of decisions made within hours of an attempt, even if there may be chronic risk factors present many never go on to complete and live a life worth living.
A study published by researchers at Harvard University found that many who attempted suicide regretted the decision and never went on to try again. (Skopek 1998).
Regret is a complex set of emotions. Having regret after making a decision is a fundamental component of behavioural decision making, and without regret there would be no understanding of the risks associated with future decision making.
Byron Clinic will be hosting Professor Morris Altman who will introduce you to behavioural economics, a cutting edge approach to understanding how and why we make decisions.
Find out what drives conscious and unconscious choices and why choices are made and how these choices can be influenced and changed.
With the rising rate of suicide in Australia, this information is crucial to all.
Owens D, Horrocks J, and House A. Fatal and non-fatal repetition of self-harm: systematic review. British Journal of Psychiatry. 2002;181:193-199.
Skopek MA and Perkins R. Deliberate exposure to motor vehicle exhaust gas: the psychosocial profile of attempted suicide. Australian and New Zealand Journal of Psychiatry. 1998;32(6):830-38.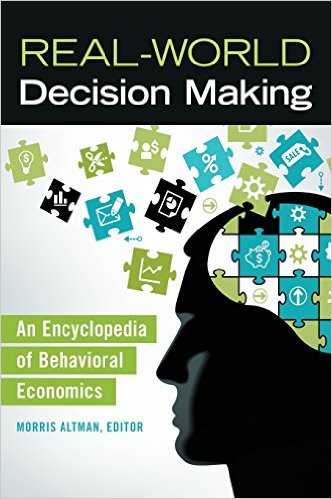 This encyclopedia is an excellent, authoritative guide to an exciting new approach to economic behavior and modeling. Summing Up: Highly recommended. Upper-level undergraduates through researchers/faculty; professionals/practitioners.